If you are sincere about learning to play the guitar, then you have two options to get started. First, you may take the conventional route – the traditional guitar lessons. Second, you can take online guitar lessons that have been widely available all over the web. If you go for the second option, you might be surprised to find a large selection of interesting guitar lessons and courses. In terms of quality and features, JamPlay is one of the worth-considering courses. 
Overview
JamPlay is among the world's biggest and most famous online guitar learning programs. It caters to everybody, right from novices to advanced players. This platform comes with not just hundreds but thousands of guitar lessons, more teachers, and huge libraries. It also features premium video production designed to allow the students to understand better the guitar and how to become a good player of it. 
Features and Benefits
JamPlay features up to nineteen genres. It can be real, but not all the genres were equally represented in the platform. For instance, the blues have 24 courses with 837 lessons. It will include everything you want to know so that you can begin playing blues. Other genres, such as funk, reggae, and gospel, have just 1 or 3 courses, respectively.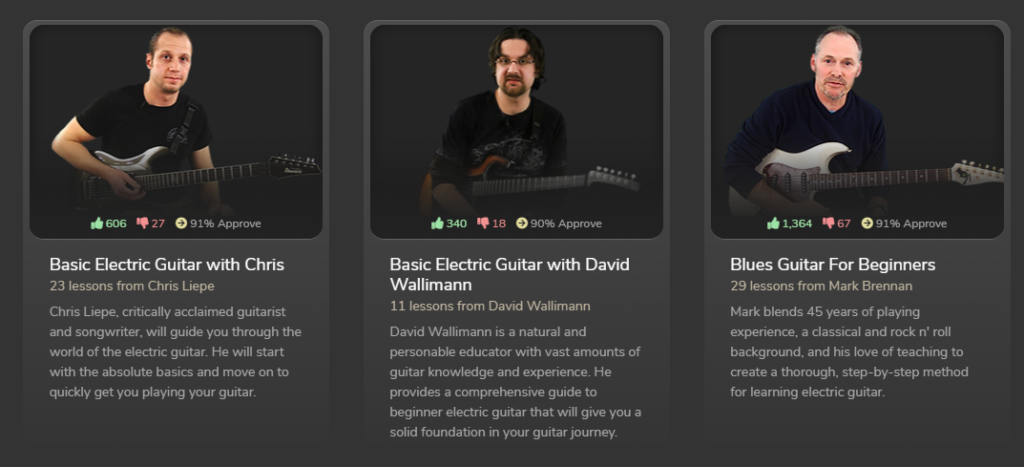 Even the more interesting genres, such as metal, may be underrepresented compared to rock and blues as it comes with 27 courses and 579 lessons. Metal only has 245 lessons and 12 courses. Perhaps, the creator of the program assumes that metal is not as famous as other genres. 
The Celtic guitar is also a genre that goes with one course and 23 lessons. Pop music has 71 lessons and 3 courses. The country has 7 courses and 156 lessons. That is lower than the total lessons and courses provided for fingerstyle guitar & rock. Also, it is slightly more than the provided lessons and courses for folk guitar. 
When it comes to teachers, JamPlay has 122 teachers. Many of them are experienced teachers, while some are accomplished guitarists who can give unique interpretations of music composition, theory, styles, etc. 
This guitar course also comes with interactive tools and a large library. It separates the library into 4 sections: scales, chords, licks, riffs, and JamTracks. Each one comes with unique features, a massive offering, and more options for customization. Toolkits are also available but exclusive for Year Pro and Year Standard members.
JamPlay's basic plan costs $19.95/month, that includes JamTrack packs & consultation benefits. Year Standard costs $13.33/month. Year Pro costs $24.99/month.
Things to Consider When Buying Guitar Lessons Online
When buying online guitar lessons, you should consider:
Your budget

Your level of skills (are you a novice or experienced guitarist?)

The tools and inclusions provided

Your access to instructors for queries
Conclusion
JamPlay is, no doubt, a good online guitar course to take. It comes with many great features, making it a perfect choice for novices and advanced guitarists. At an affordable price, many have enjoyed the experience with this platform. Of course, no guitar course is perfect. Even JamPlay has shortcomings. For the price, it's still worth considering.