Yes, Marshall amps look fantastic, but you really do not need 200 watts in your bedroom. If you are starting out with your first guitar, all you need is a cheap amp that sounds great.
The RockJam 20-watt electric guitar amplifier is just perfect for this function. It is appropriate for different kinds of musicians of all skill levels.
RockJam GA-20W Features And Specs
20w RMS guitar amplifier
Three band equalizer including gain and boost function
Stylish black and silver in colour
Sturdy and strong carry handle plus a storage unit at the rear
6.35 mm Headphone jack output
Product Dimension – 28 x 8 x 27 cm
Item model number  – GA-20W
Country Produced In  – China
Output Wattage  – 20 watts
Here's what we love about the RockJam GA-20W Guitar Amplifier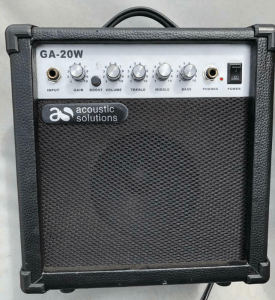 Fine Tune Your Sound – One of the qualities of a good musician is the ability to exercise total control over the sound of his music. This is why the RockJam Guitar Amp contains different buttons for Boost, Gain, Treble, Middle, and Bass – allowing you the opportunity to fine-tune the sound of your Melody. It produces the best quality sound even in an electric drum kit.
20 Watt Power – With a 20-watt power output be sure that your music will be heard not only loudly, but clearly too. The Amp is designed to retain clarity of sound even when the volume is very high. It is powerful enough for small outdoor performances. It contains so much power for a device of its size.
Provides Privacy – During those moments when you just want a quiet practice or do not wish to disturb neighbours, you can plug in-studio monitors or a pair of headphones into the very fitting 6.3mm input Jack and enjoy the music alone all by yourself.
Portable – With an area of just 270cm by 280cm and weight of 4.2kg, the RockJam Electric Guitar amp can easily be carried around from one place to another. A built-in carry handle makes transportation even easier.  When the amp is not being used, the mains lead can be easily placed away in an accessible storage unit at the back of the amplifier.
What could be better regarding the RockJam GA-20W Guitar Amplifier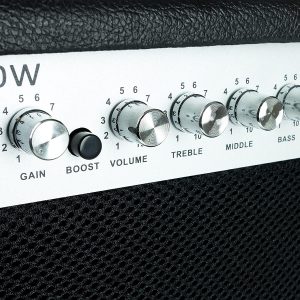 The amplifier finds it difficult to produce distinct sounds. Most of the time, the output is awfully distorted and is not loud enough to be heard over long distances and therefore is not suitable for large events.
Traces of hustles can be heard especially when the volume is increased.
It may not be the best option even for kids' practice because a youth who gets too familiar with this amp may have challenges with identifying the actual sound of a guitar.
It is also not suitable for professional gigs because it cannot accommodate both the guitars and microphones at the same time. In addition, it is made from inferior materials, and it is not very durable.
The Verdict
Available at an affordable price, the RockJam GA 20W with its many special features such as 20watt power, portability, fine-tuning, and lots more gives you the opportunity to improve your music. So if you are looking for an amplifier to crank up your music solos, you should really get this. Suitable not only for guitar but also for electric drums and violin.