Whether you have used another product from this brand or not, this Ibanez GIO Series GRX40 review will help you to confirm if it is a perfect match for your current needs.
If you are still an amateur on a budget, the Ibanez GIO Series GRX40 is probably one of the best options for you. It is also ideal for intermediate players since it is very easy to manoeuvre up and down the neck, while giving you that feel-good sensation when you play.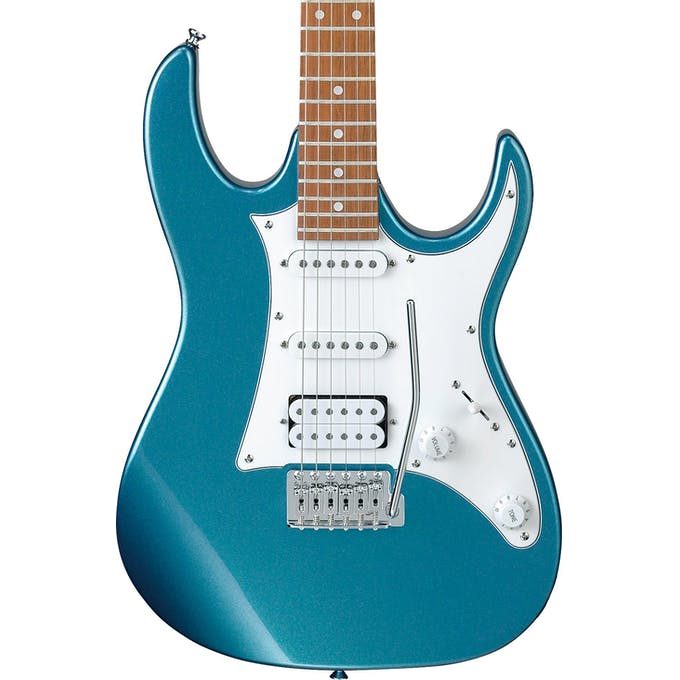 Ibanez GIO Series GRX40 Feature Specs 
It has a GRX Maple neck with 22 medium frets.
An Ibanez T106 tremolo bridge
A popular body
A Treated New Zealand Pine fretboard white dog inlay
10.5 mm string space
An Infinity RS(S) neck pickup Passive/Ceramic
An Infinity RS(S) middle pickupPassive/Ceramic
An Infinity R(H) bridge pickupPassive/Ceramic
Factory tunings- 1E,2B,3G,4D,5A, and 6E
The GR is one of the most popular and unique guitars from the Ibanez brand. Three decades of metal have moulded this jazzed-up instrument refining it for both tempo and strength. Whatever you prefer, be it a fixed bridge or our industry-leading locking tremolo system the GR is a fine device.
This series was produced for people who love Ibanez quality but do not want to spend a lot, like with the GSA60. It has been subjected to lots of the same meticulous review criteria and warranty terms as other Ibanez products.
What Makes The Ibanez GRX40 So Good
For a professional guitarist wishing to add to his collection of guitars or a starter new to the world of strings, Ibanez GIO Series GRX40-CA arguably provides the best sound for your money.
It is widely available in the market at a very affordable rate, a good thing for people who aren't looking to spend too much. When used together with a Boss katana Mini amp, it produces an almost perfect sound quality.
It can play about any music be it Rock, Blues, or even Metal. The feel of a GRX40-CA on the hands is so good that it makes you want to play on and on while assuming any position.
Some players for some reason find Jumbo frets inconvenient like on the GRG170DX, but this model of the guitar comes with medium-sized frets that provide ease of use and a generally good feeling. It is strong and gives a good performance on stage and off the stage.
Ibanez GRX40 Drawbacks – What You Should Know
Although you can play various types of music on this guitar, it is almost impossible to play a Djent, you would need to spend a fair amount on gear to get the high gain. This means you will have to spend more money even when you were trying to save in the first place, so decide on the main style of music you want to play.
The frets could do with some improvements plus their marks are not so precise. Their pickups are not so reliable- look fragile and trebly and make tinny sounds. To tilt the strings easily and properly, you need good fingers and muscles, and you can only achieve this through regular practice.
Should You Spend Your Money On The Ibanez GRX40
Through the production of the GRX40, Ibanez has not only been able to put better guitars in the hands of starters, but they have also played a significant role in initiating many new musical careers across the globe.