The Ibanez brand has built a reputation for manufacturing great quality guitars, and the Ibanez GRG7221 is no exception. The Ibanez GRG7221 is a little different as it has seven strings, which is great if you are looking for a richer sound.
Seven-string electric guitars come with an added low base string, usually tuned to B in standard tunning – but you have a lot more options, check out Lee's tuning in the video below.
Who Is the Ibanez GRG7221 For?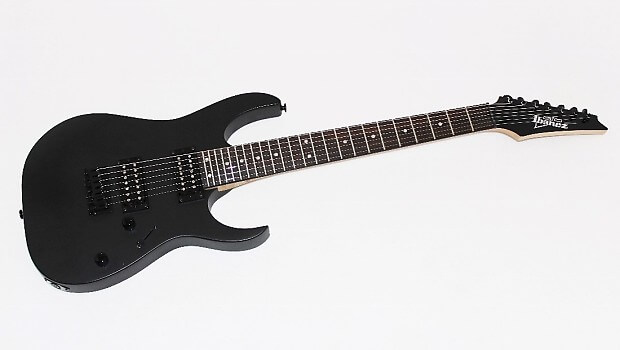 The Ibanez GRG7221 is perfect for intermediate guitarists looking for a budget-friendly guitar that is a little different. We would not recommend this guitar for beginners until they have mastered 7 strings.
However, despite, its low cost the sound is incredibly good, which is why it wouldn't even hurt for a more advanced player to pick up this guitar. It's also extremely stylish, so if looks are a factor for you, this is a guitar to consider.
Overall, it's more tailored towards players who are at beginner or intermediate level but can be a good option for more advanced players well.
Features & Technical Details Of The Ibanez GRG7221
Take a look at some of the features of the Ibanez GRG7221 below. If you were to assume based on the features only, you might assume that it's a £500 guitar. But, that isn't the case.
-Body Material – Wood
-Colour – Sunburst
-String Material – Steel
-Top Material – Maple Wood
-Neck Material -Maple
-Number of Strings 7
-Guitar Pickup Configuration – Humbucker
-Black Hardware
-Item model number – GRG7221QATKS
-Product Dimensions – 106.5 x 45 x 8.5 cm;
-Weight – 3.8kg
What We Like About The Ibanez GRG7221
Now, that we have taken a look at the features and technical details of the Ibanez GRG7221, we wanted to share what we like about it.
Ibanez GRG7221 Sound
First of all, something that really caught our eye was the sound quality. Considering the price, we were not expecting this guitar to sound as fantastic as it does.
The tone of this guitar, we would describe as lively and pleasant, but check out Lee's test of the sound.
One reviewer on Amazon even mentioned that this guitar "boosted his career" which shows how great it sounds. In the price range, you'll struggle to find anything that even compares to this gem.
Ibanez GRG7221 Style
Another thing that we really like about the Ibanez GRG7221 is its style of it.
It has a beautiful sunburst and black colour on the hardware which looks extremely nice in the older model range, current models are only in white on the Ibanez website.
Value For Money
We also really like the value-for-money aspect of this guitar.
The features, the sound, and this guitar, in general, feel a lot more expensive than £219. It has a great professional sound and some great features.
But often when a budget-friendly guitar has these benefits, the guitar lacks in comfort because the manufacturer somehow tried to make it good value. This isn't the case with the Ibanez GRG7221, as it's also easy on the hands.
Overall, it's a great all-rounder, and for the price, it's a bargain.
Ibanez GRG7221 Review: Conclusion
As you have seen throughout this Ibanez GRG7221 review, this guitar is pretty good.
It's one of the best guitars in the GIO RG range, and it's extremely good value for money. It has great sounding pickups, an outstanding feeling neck, and great tuners.
If you are a little sceptical about the price, don't be. The guitar is solid and easily feels like a lot more than it costs.
You can check out the Ibanez GRG72G7221 at Amazon here.